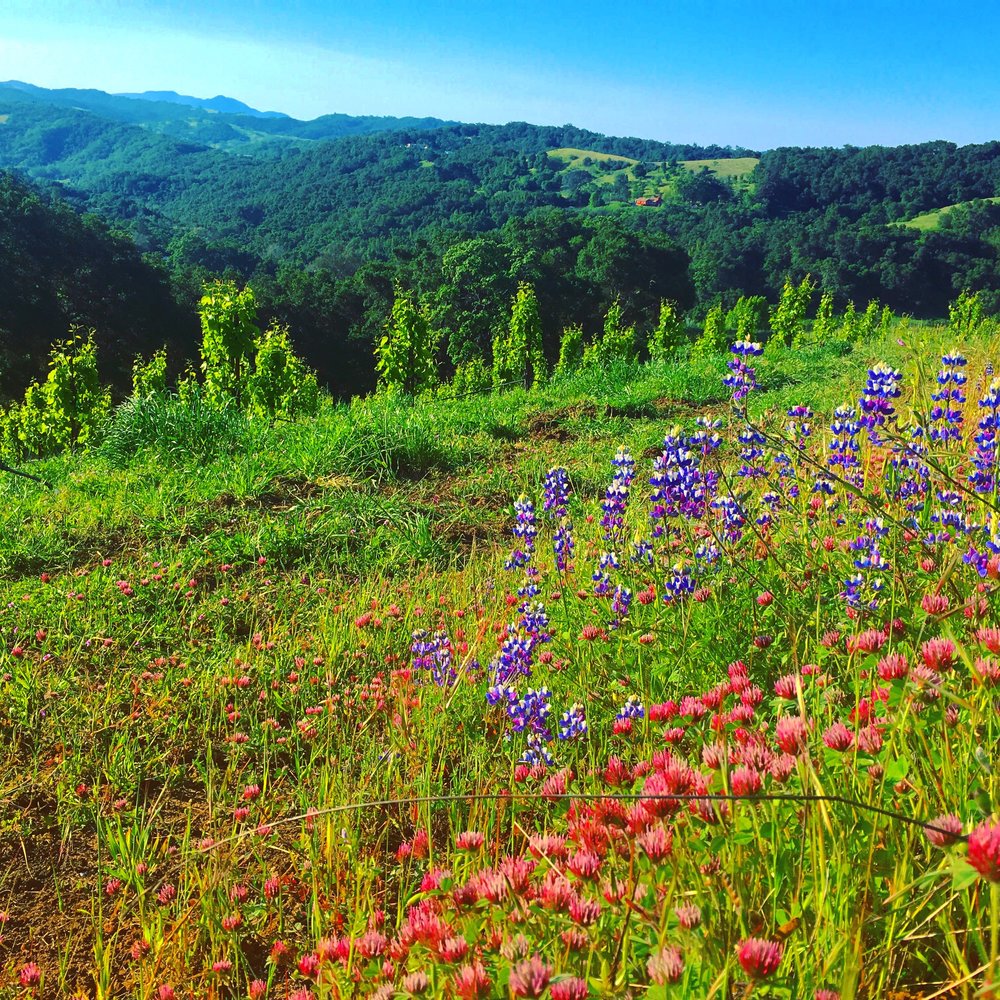 Tucked away in the Central Coast's Santa Lucia range lies a largely unknown AVA called York Mountain. About 1800 feet up the mountain, 8 miles or so from the Pacific ocean between the towns of Cambria and Templeton is where you will find Royal Nonesuch Farm.
Coming from southern Indiana (oh this is Louis this week by the way. Jason's "bottling" i.e. partying on a boat in Texas) I find the term "farm" often way overused to sell an image. Not this place. Livestock, chickens, it's the real deal. A living, breathing farm, and absolutely idyllic. Remember those Hidden Valley Ranch commercials from the 90s? Looks like that, but you know… real.
The Yount family purchased the property about 10 years ago. The 7 acres of vineyards on the estate host a surprisingly diverse range of soils types (rocky limestone, clay, and sand), and due to the proximity to the Pacific get on average FOUR TIMES the amount of rainfall as the nearby town of Paso Robles.
The farm however is so more than just seven acres of vines. It's home to 3 generations of the Yount family. It's where they raise their live-stock and grow their fruits and vegetables. For this and so many other reasons they never use herbicides, chemical fertilizers or pesticides.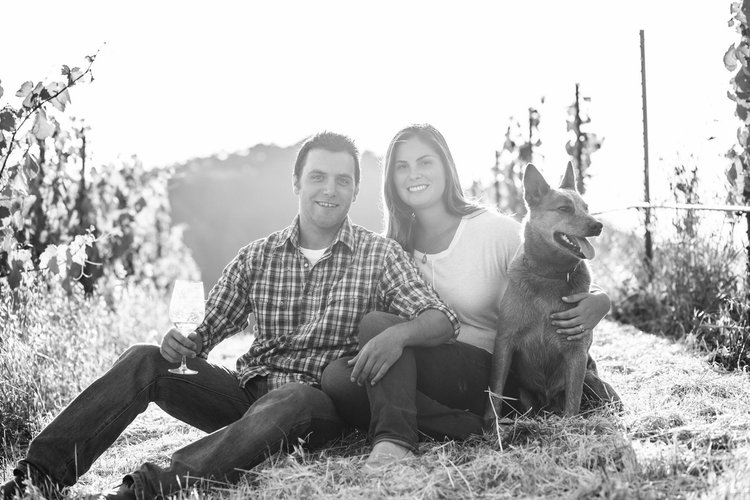 Nonesuch is helmed by Anthony and Hillary Yount (and all their critters). Anthony handles the winemaking, and Hillary is the vineyard manager.
Anthony is also the winemaker at Denner Vineyards and consults for a very impressive hand full of rockstar clients in Paso Robles.
He sells Grenache and Mourvedre to Jason for his Modus Operandi project, and Jason tells me that "Anthony is one of the brightest wine minds I've come across in a long time… The guy is like a walking encyclopedia when it comes to winemaking and specifically wines of the Rhone."
Anthony's winemaking Philosophy: "If you provide the grapes and wine with an environment where they can thrive and express themselves, they will do just that."
Hillary's Vineyard Philosophy: "I want to see how the vines respond without too much manipulation. It's an ongoing conversation between the growing team and the land. I aim to listen first; to let the vineyard express itself."
My Opinion on Game of Thrones Final Season: "Absolute lazy storytelling. Complete garbage and several hours of my life that would have been better spent getting a root canal."
2018 Royal Nonesuch Farm Red
$65 per Bottle
The Winemaking: *INHALES DEEPLY* …
The 2018 Royal Nonesuch Farm Red is a 100% estate grown blend of 67% Grenache, 18% Syrah, 14% Graciano, 1% Clairette Blanche that was cold soaked for 7 days with twice daily pumpovers, then wild fermented in concrete tanks and foudre with twice daily pumpovers or delestages with 17 days total maceration and bottled without fining or filtration.
No idea what 80% of that means?? That's ok. Just memorize it and repeat it verbatim and no one will ever ask you to explain it. Plus you'll now be the "wine nerd" in your group of friends. But remember, with great power comes great responsibility.
The result of all that fancy pants lingo is a absolutely stunning wine. Andy, Jason and myself were all blown away by the myriad of things going on and the incredible complexity.
Unlike the final season of Game of Thrones, this wine actually finishes STRONG. It hangs on the palate like the final note of a symphony.
Winemaker Tasting Notes: The 2018 Royal Nonesuch Farm Red opens up with a gorgeous nose of blackberry sorbet, cracked pepper, spring flowers, fresh-turned earth, brown-eyed women and red grenadine. The wine hits the palate with an extraordinarily seamless display of rich, pure fruit and a full-bodied, multilayered texture. Yet, it remains light on its feet as the silky, soft and long finish leaves you with lingering spice.
Louis's Tasting Note: Holy crap this is good.
"NONESUCH WHAT?"
If you're like me, you were probably curious about the name. If you're even MORE like me, you haven't read Huckleberry Finn in probably 30 years. Well, in that book, the "Royal Nonesuch" was a funny fake play that two low rent thespians decided to put on for a small town in Alabama as revenge, after feeling slighted by a less than stellar response to their attempt at actual Shakespeare.
The Younts chose this as a constant reminder to never take themselves to seriously.
Today we proudly offer…
2018 Royal Nonesuch Farm Red
$65 per Bottle
100% Estate Grown.